7 Different Shutter Types For Your Columbia Home
---
---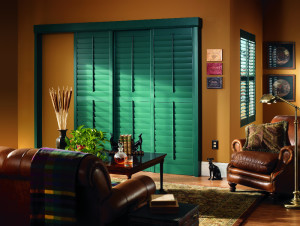 When shopping around for window treatments, it can get frustrating because there are so many different types of coverings to choose from and sometimes the lines get blurred between them all. You may wonder at times if you're actually looking at blinds, shutters, shades or which?
The terms are often used interchangeably which confuses things even further. Most shutters are hinged at the side and connected to the sides of your window frames. No matter the materials they're made from or whether they have louvers or slats, they open and shut via side hinges. Shutters can be manufactured for outdoor or indoor use, so they are available in interior and exterior styles.
One of the best ways to think of a shutter example is what may be the most popular shutter style of all time, the old Plantation Shutters. You can probably easily picture this type of shutter and keep it in mind when you're trying to choose your window coverings.
Plantation shutters have the wide 3″ slats that can be closed or opened with a center strip of wood that runs vertically over the center of each slat. The shutters can be latched together when shut, and open up to the side via the hinges so they're completely out of the way of the window view. Hurricane shutters can be fitted on tracks instead of hinges, which means they open by being raised instead of opening to the sides.
Here are a few styles and types of shutters you can take a look at during your free on location design consultation with Palmetto Blinds & Shutters if your dressing your Columbia, SC area home or business windows.
Interior Shutters – interior shutters are obviously installed on the interior of your building or home. They open to the sides and come in many styles and types. They are a key design feature for the inside of your home. They can also be protective against storms if you choose interior storm protective or hurricane shutters.
Exterior Shutters – exterior shutters are installed on the outside of your building. They bring a beauty and elegance to your architectural appeal. They come in an array of types for the exterior that can be fixed or hinged. Hinged or slide track hurricane shutters protect the home during storms or hurricanes.
Louvered Shutters – louvered shutters have fixed slats that overlap each other and don't open or close. This shutter type gives you less options in light filtering but more in protection and privacy.
Plantation Shutters – as mentioned, these shutters have the wide 3″ slats and are suited for many homes. They are one of the most popular options in shutters for both interiors and exterior.
Raised Panel Shutters – the raised panel shutters are not louvered or slatted but are solid panels much like the panels on a decorative door. They give you a welcoming garden feeling and can also be extremely useful as exterior protective shutters for your home if the hinged variety is chosen.
Shaker Style Shutters – the shaker style shutter is an interior flat panel that's useful when you want to block out light and bad weather. Simplicity defined, the shaker style shutter is a traditional window shutter that can go with almost any design style depending on painted finish.
Board and Batten Shutters – the board and batten style of shutter are built with individual boards that run vertically and are attached together with a one or more horizontal boards (battens or short crosspieces). They're normally fitted for traditional Tudor style homes that boast over the top visual charm. They look great with wooden window boxes!
When you're looking at shutter types for your home or business, you'll have many options to choose from that will make your interior and exterior chic and stylish. Let Palmetto Blinds & Shutters' design consultants bring out a few samples to show you so you can see just what they would do for your curb appeal or your interior design appeal!
Recent Articles
3 Wonderful Benefits Of Interior Shutters

If you are one of the many homeowners out there who are in search of new window treatments for your home, you certainly have your work cut out for you when it comes to finding the right option. Window treatments come in a number of different styles, materials, and designs, giving you a large amount…

Read More

Enjoying Nature With Shades, Blinds, and Shutters

The views from your windows play an important role in how the interior space of your home or business feels. If you have a home in the South Carolina, greater Columbia area, you'll want to bring in as much of nature as possible, especially if you're interested in energy savings and eco-friendly environments. You can…

Read More

If you are looking for different Shutter Types in South Carolina then please call 803-735-9372 or complete our online request form.