Beautiful Columbia Window Shutters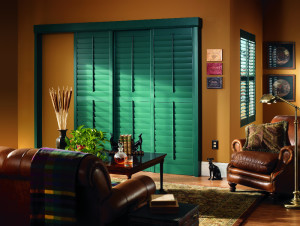 When choosing the right shutters for your Columbia home, our professional window treatment consultants recommend you consider both function and design style. Window Shutters not only dress your windows, giving your home a finished look, they also add to the protection of your home to avoid damages from weather via your home's windows. Hurricane or Board and Batten style exterior shutters offer you protection from high winds, storms, impacts, water damages, and more.
Functional And Beautiful Shutter Options
Shutters can also function well as methods to control the amounts of light that is let in through any window in your home. Since the louvers can easily be changed to allow differing amounts of light through at any time, the shutter is a great window covering choice.
Window shutters also offer you plenty of privacy options from near complete privacy to wide open windows. Whether you want a lot of privacy or very little, you'll always have the option to change your mind with shutters.
Another great reason to go with shutters for your Columbia window coverings is they look great when combined with drapes or curtains. You can have interior or exterior window shutters installed that can be matched to go with your beautiful drapery or curtains to give you plenty of extra design style and privacy or lighting options.
Types of Window Shutters
Premium Wood Shutters
Faux Wood Shutters
Polycore Shutters
Hurricane or Storm Shutters
Board and Batten Shutters
Interior Shutters
Exterior Shutters
Plantation Shutters
California Shutters
Louvered Shutters
Panel Style Shutters
Expert Shutter Installation Services
Our Columbia shutter company always provides expert shutter installation for our customers. When you've chosen your shutters and your windows have been measured, we install them for you so you don't have to worry about having to do it yourself. Professional installation is always a part of how we offer you the best in services when you want to dress your home's windows because we want to ensure your shutters are installed to perfection.
Shop For Shutters In The Comfort Of Your Home
At Palmetto Blinds & Shutters, we do all we can to help you find the perfect shutters for your beautiful Columbia area home. There's no better shopping experience either because we bring our mobile showroom to you. You can choose and find the right shutters for every window in your home easily when you have the samples to compare next to your unique design aesthetics already in your home.
Custom Window Shutters
If you have windows that are odd or irregular shaped or sized, we can fit your windows with custom shutters. We can also custom order your shutters if the style or type you choose is not standard. All the way around, you get the best options in affordable, beautiful shutters when you choose Palmetto Blinds & Shutters here in the Columbia area!
Latest Shutter Projects
---
---
Recent Articles
Smart Homes Need Smart Window Shades, Shutters, & Blinds

Everyone is raving about "smart" technologies that make our lives better and easier. Today's homes are being built with these new technologies built in, with many soon to be standard features. But it may be some time yet before we all have the options to make all our systems smart enough to keep up with…

Read More

7 Different Shutter Types For Your Columbia Home

When shopping around for window treatments, it can get frustrating because there are so many different types of coverings to choose from and sometimes the lines get blurred between them all. You may wonder at times if you're actually looking at blinds, shutters, shades or which? The terms are often used interchangeably which confuses things…

Read More

If you are looking for Columbia Window Shutters, please call 803-735-9372 or complete our online request form.