Enjoying Nature With Shades, Blinds, and Shutters
---
---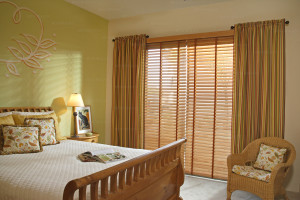 The views from your windows play an important role in how the interior space of your home or business feels. If you have a home in the South Carolina, greater Columbia area, you'll want to bring in as much of nature as possible, especially if you're interested in energy savings and eco-friendly environments. You can enjoy nature through your windows blinds, shades, or shutters.
Window coverings play an important role for your interior design aesthetic. They set the tone for the type of mood and feeling you want in the room because they are one of the most prominent features of the room that draws the eye.
For instance, when you first enter a room with a window, your eye is automatically drawn to not only the window but the drapery, shades, shutter, or blinds that cover and dress the window. This is especially true if you have bold window coverings like the beautiful bamboo or wooden shutters or blinds or a great solar shade that streams in beautifully filtered, glowing light.
When you're thinking about dressing your home's windows, consider bringing some of those outdoor elements into the space your decorating for and not just going for a design that has nothing to do with the bit of nature showing through your window. Even if the only portion of nature visible is part of the sky, you can enhance that natural element by bringing it further into your decorative scheme.
The colors, textures, and materials of the outdoors make your home feel cozy and comfortable, and can vary between rustic, bold, and contemporary or soft, contemporary, and beautiful.
Depending on the materials you choose for your shades, blinds, and shutters, you can have the function and design you're going for that includes these natural elements.
Solar Shades, A New Way To Block Heat But Not Light
Today's solar shades are shaped in honeycombed pieces that trap most of the heat and don't allow it into your interior spaces while still allowing light through. Solar shades come in a few barely tinted styles to complete black-out shades that allow you to choose whether you'll want to block out all or just some of the light.
These shades not only protect your space from heat, but also block out nearly all of the harmful UV rays from the sun that create the heat. They protect your furnishings and woodwork from fading and protect you from the harmful rays.
With motorization and automation options, you'll be able to control your solar shades either on a set automated schedule or manually at any time with a remote control device or over the internet, your smartphone, or tablet.
Green Materials Give You Wonderful Energy Savings As Well
Green materials in blinds, shades, and shutters serve you well when it comes to options that help the environment and your home's energy savings.
Bamboo is one natural material that's fast becoming a favorite building material because it grows incredibly fast, is easy to harvest, and is quickly renewable. Bamboo naturally absorbs the sun's heat as well, keeping the it from stealing your energy savings.
Woven blinds and shades are made of various grasses and reeds (bamboo is a grass) and offer you the same great energy savings and protection from the sun. Woven grasses, reeds, or bamboo protect your home from energy wastage as well as resist insects, making them wonderful eco-friendly window treatments.
Recent Articles
3 Wonderful Benefits Of Interior Shutters

If you are one of the many homeowners out there who are in search of new window treatments for your home, you certainly have your work cut out for you when it comes to finding the right option. Window treatments come in a number of different styles, materials, and designs, giving you a large amount…

Read More

7 Different Shutter Types For Your Columbia Home

When shopping around for window treatments, it can get frustrating because there are so many different types of coverings to choose from and sometimes the lines get blurred between them all. You may wonder at times if you're actually looking at blinds, shutters, shades or which? The terms are often used interchangeably which confuses things…

Read More

If you are looking for natural eco-friendly blinds, shades, or shutters in the greater Columbia, South Carolina area, please call 803-735-9372 or complete our online request form.