Experienced Blinds, Shutter, & Shades Columbia, SC Shutter Company
Since 1997 – The Oldest Continually Owned & Operated Columbia Shutter Company In The Area
There's no better way to transform your greater Columbia area home or commercial business than with our beautiful shades, blinds, and shutters! The experts at Palmetto Blinds & Shutters are ready to transform your home or business with the perfect window coverings that bring value and beauty to your space.
As the premier Columbia Shutter Company, our affordable, quality window treatments go far to offer the most in form and fashion, providing you with functional control over natural light, privacy, energy savings, eco-friendly materials, durability, and affordability. But most of all, our shades, blinds, and shutters are beautiful and luxurious, giving you the design appeal you're looking for.
If you want to bump the aesthetic qualities of your home or business up several notches, as well as improve your property's value, choose the favorite window treatment company in the Columbia area -Palmetto Blinds & Shutters! Our experienced professional will make sure your windows look great!
Also, we offer a unique shopping experience you're going to love! Instead of taking time out of your already busy schedule to browse through online photos or view samples and visit multiple local stores, we make your shopping experience fun and exciting by bringing our showroom to you instead!
This is just one way as a local Columbia Shutter Company that we can simplify your window treatment shopping experience and make the process easier for you. Our design specialists bring our mobile showroom directly to your home or business for a complimentary on-site consultation where you can see your great options up close and personal. There's no better way to ensure you're getting the right window blinds, shades, or shutters for your space.
Timeless Shutters
Available in a wide variety of colors, textures, and materials – The right shutter can really pull together your property's sense of style. Whether you're looking for classic or contemporary, we will help find the right shutter product for your home's or business's needs.
Beautiful Blinds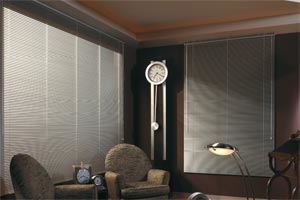 From mini-blinds and beyond, we offer aluminum, wood, and vinyl blinds options that provide privacy while allowing you to express your property's personality. Our consultants will work with you to uncover what blinds are best for you.
The Most Experienced Window Treatment Installers In Town

We are the total package when it comes to your property's window treatments. Aside from our industry-leading consultants, we also have the areas most experienced installers working along side us. Our Columbia Shutter Company installers work to quickly yet carefully put your window coverings in place, and will demonstrate proper operation of your new shutters, shades, or blinds before leaving your property. For many of your window coverings, we can fit nearly any window type with our motorization and automation options that can be installed to give you modern methods to control your new "smart" window shades or blinds.
Why You Should Select Us For Your SC Window Coverings
There are many reasons why we are the oldest continually owned and operated Columbia Shutter Company. Our reputation for superior quality products and top notch customer service precedes us. The only thing we're more well known for are our design consultants and product installers, who have highly focused industry knowledge and experience – all of which benefits you and your windows.
Our design consultation begins your great shopping experience with options you'll love for your home or commercial business. You'll only get the best customer service with options in custom ordering for all your odd shaped or sized windows. We provide expert measurements and fittings, and expert installations on top of high quality materials that make our shutters, blinds, and shades first choice in the Columbia area.
At Palmetto Blinds & Shutters, our first priority is always your satisfaction. That's why in all we do we ensure we have your goals in mind. From beginning to end, we strive to make your experience a positive one that's easy and fun so you can enjoy getting new window treatments for your home or commercial business.
Latest Projects
---
---
---
Recent Articles
Types of Window Blinds

Blinds are one of the most popular types of window treatments, and they're a versatile way to enhance your interior design and control the amount of light that enters a room. When you're selecting window blinds for your home, you'll have a wide variety of types of blinds to choose from, and each of them…

Read More

Enjoying Nature With Shades, Blinds, and Shutters

The views from your windows play an important role in how the interior space of your home or business feels. If you have a home in the South Carolina, greater Columbia area, you'll want to bring in as much of nature as possible, especially if you're interested in energy savings and eco-friendly environments. You can…

Read More

If you are looking for affordable shutters, shades, & blinds from a Columbia Shutter Company please call 803-735-9372 or complete our online request form.