Incredible Polycore Shutters in Columbia for Home or Business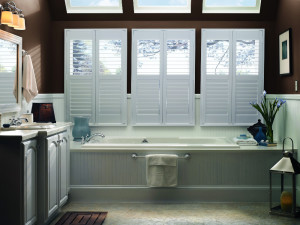 When you're thinking about what type of window dressings you want to install for your Columbia area home, consider the outstanding Polycore Shutter options. Polycore shutters offer you the world's only solid synthetic shutter materials that give you the most in function, affordability, and strength as well as beauty and easy care.
Polycore Shutters can match any type of regular shutter in design or architectural style. They come in varying slat widths including the look of real wood plantation shutters which are very popular in the Columbia, South Carolina area.
The Polycore Shutter Difference
The Polycore shutters from our Columbia shutter company has a baked on waterborne paint that is fire retardant and moisture resistant. Since the finish is baked in, they are also highly resistant to fading or dulling. Polycore shutters are made from materials that are strong insulators against the heat or cold. They have the beautiful appeal of real wood shutters without the less durable structure.
Technically speaking, the Polycore shutter is constructed with a co-extruded aluminum core. This solid core structure brings strength to the structure, making them more durable than the other types of vinyl or wood shutters.
Our Polycore Shutters are guaranteed not to warp, split, or crack
Strong and durable
Energy Efficient
Fire Retardant
Moisture Resistant
Fade Resistant
Polycore Shutter Designs
Our beautiful Polycore Shutters come in an array of colors and styles to choose from. When you choose Palmetto Blinds & Shutters, you'll have all the options at your fingertips as we bring our showroom to your location.
Polycore shutters give you the edge up in design styles. They come in an array of colors that will go well with your Columbia home's decor. They come in widths that vary from 2-1/2 to 4-1/2 inch widths. and very light but extremely strong.
Whether you own offices, other commercial properties, or a home in the greater Columbia area, we can find the perfect Polycore Shutter for all your windows.
Expert Polycore Shutter Installations
Whether you chose interior or exterior Polycore Shutters, we will provide you with the best in expert installations in the Columbia area. During your design consultation, your windows will be expertly measured so at the time of the installation everything will go smoothly.
We can fit nearly any type of window you have in your home including fixed glass windows. If you have a custom window shutter need, we have you covered. Our experienced professional shutter installation team has all the experience you expect and deserve to perfectly fit your windows every time.
Recent Articles
The Popularity of Woven Wood Shades: Embracing Natural Beauty and Versatility

Woven wood shades have gained immense popularity among homeowners and interior designers in recent years. These unique window treatments offer a beautiful combination of natural elements, versatile design options, and functional benefits. In this blog post, we will explore why woven wood shades have become so popular and why they are an excellent choice for…

Read More

Reasons to Consider Faux Wood Blinds over Real Wood

Are you in the market for new blinds? If you are, you need to consider getting faux wood. Faux wooden blinds offer a variety of great practical and aesthetic benefits that will keep your home looking great while keeping you happy with your choice of blinds! Lower Price While real wood blinds might be stunning,…

Read More

If you are looking for Polycore Shutters in Columbia, please call 803-735-9372 or complete our online request form.