Outstanding Lexington Window Blinds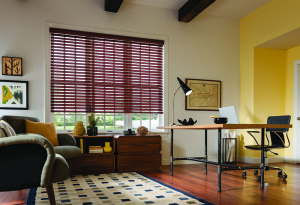 Living in the Lexington, South Carolina means we have plenty of beautiful natural views to take in every day. This area of the country has grown over the years and probably will only continue to be one of the most lovely natural places to live and work.
At Palmetto Blinds & Shutters, we know you're in love with the lush, natural areas that show through your home's and business' windows. We've helped many homeowners and commercial property owners through the years to find window treatments that enhance these beautiful views.
If you have a local Lexington home or commercial space, we can bring our mobile showroom of Lexington Window Blinds, shutter, or shades samples to you so you can see what your options will look like within the space you're looking to dress up with window treatments.
For Your Lexington Home
Shutters can make a huge difference for your home or business whether it in protection from storms or impacts or for design aesthetics. You have options in coverings that are easy to open and control and can choose varying amounts of light or privacy.
Our Lexington Window Blinds, shades and shutters also give you plenty of options for the interior and exterior design aesthetics of your home. They're not only functional, but beautiful and protective.
Commercial Shutters & Blinds In Lexington
A Lexington business that boasts windows should have suitable window coverings to not only enhance the appeal of the business but also protect customers and employees from glaring sun and heat. Areas of your space may produce more heat and glare than others, so the type of coverings needed can differ according to each window.
Let us help you with a design consultation where we can bring you samples of some of your favorite styles. We can bring our mobile showroom to your location so you can have a professional consultant take you through the process. If you're interested in dressing your commercial windows, call the pros at palmetto Blinds & Shutters.
Window Blind Options In Lexington
Lexington Window Blinds, Shutters, and shades make your Lexington windows more attractive and elegant and can do much to improve your reputation. Window blinds are wonderful to allow in varying amounts of light and can be opened or closed up tight. Let us help you make your commercial property beautiful with our affordable, quality window treatment solutions at Palmetto Blinds & Shutters.
Why Customers Love Palmetto Blinds & Shutters
Palmetto Blinds & Shutters focuses on providing our customers with an easy shopping experience and quality, affordable window treatments, and expert design consultations and installations.
Always wanting to see our customers smile with delight when they see their choices in window coverings installed, we strive to help you find the perfect window shades, shutters, or blinds.
You can count on our professionals every step of the way to make your process easy and fun. Let's work together to find you the right solutions for your Lexington home or business today!
Customer Reviews
Palmetto Blinds & Shutters is Rated: 5 / 5
based on these 1 happy customer reviews.
---
"I agree with the previous reviews! We are very pleased with our shutters and blinds. Wouldn't change a thing! High quality product, excellent installation."
---
If you are looking for affordable, quality Lexington Window Blinds, Shutters and Shades, please call 803-735-9372 or complete our online request form.