High Quality Columbia Wood Blinds
Premium wood blinds are hung and controlled differently than shutters. While shutters are hinged at the side and opened and closed to the side, the blinds are atttached to the top of your window frame and open and close via a cord, by cordless design, or by an installed motorized track system.
Premium Wood Blinds
Basswood Wood Blinds
Real Oak Blinds
Maple Blinds
Walnut Blinds
Beautiful Bamboo
Natural North American Hardwoods
The Difference Real Wood Blinds Make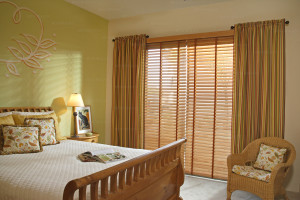 No matter the type of real wood you choose for your Columbia window blinds, you're going to get the quality and luxury of real wood brought into your home. There's nothing like the texture, aroma, and feeling real wood blinds bring to the space no matter the setting. Whether you have a business office you'd like to install your real wood blinds in or a home, they are going to enhance the decor of the space and bring a feeling of luxury and warmth in.
When we use real wood with beautiful finishes in our spaces, there's just something to them that gives us a sense of comfort that can't be replaced. Just the feeling of real wood against the skin gives an earthy quality everyone seems to love and be attracted to.
Dreamy, Real Wood Blinds For Your Beautiful Columbia Home
Our Premium Wood Blinds offer the glowing qualities of a smoothly clean, oil rubbed wood surface that gently reflects light and sends it off dancing against other objects in the home. Real wood blinds create reminiscence of snow fall days and holidays spent in front of a warm fireplace, with a good book, reading glasses, and nice glass of deep red wine. There's simply nothing like real wood that can give your home the class and elegance it needs no matter the design style you're going for.
Expert Real Wood Blinds Installations
When it comes to your window blinds or other window covering options, our Columbia shutter company gives you expert installations for all your Columbia area home's windows. We measure your windows accurately during your professional design consultation where you get assistance at your location to choose your blinds so that when it's time to install them you get an accurate, perfect fit every time.
We can install your window blinds on all types of windows and can fit your custom window sizes and shapes as well. You can also have motorization and automation equipment installed so you can manipulate your blinds via the internet or remote control. Motorized window blinds are equipped with a track system that fits along the sides of your window frames, making them easy to control.
For all your home's window blinds services, go with the professionals at Palmetto Blinds & Shutters and you'll have beautiful wood blinds that are easy to shop for, easy to find, and easy to install because we do all the hard work for you!
Recent Articles
Smart Homes Need Smart Window Shades, Shutters, & Blinds

Everyone is raving about "smart" technologies that make our lives better and easier. Today's homes are being built with these new technologies built in, with many soon to be standard features. But it may be some time yet before we all have the options to make all our systems smart enough to keep up with…

Read More

Reasons to Consider Faux Wood Blinds over Real Wood

Are you in the market for new blinds? If you are, you need to consider getting faux wood. Faux wooden blinds offer a variety of great practical and aesthetic benefits that will keep your home looking great while keeping you happy with your choice of blinds! Lower Price While real wood blinds might be stunning,…

Read More

If you are looking for Columbia Wood Blinds, please call 803-735-9372 or complete our online request form.