Window Covering FAQs
*Click on a question to see the answer.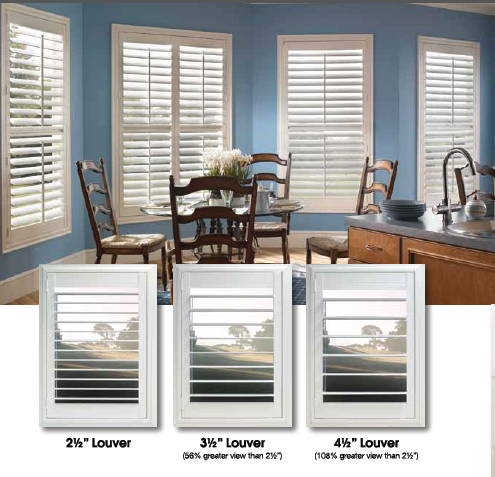 Q1. What is the difference between real wood and faux wood shutters?
Shutters have changed dramatically over the last ten years. A shutter purchased a decade ago is nowhere near the quality of today's shutters. Today's shutters also offer a wider array of choices in color, materials and options. Not only are the finishes of today far superior, but the workmanship is also nothing short of extraordinary.
Of the number of advantages faux wood shutters offer, the cost is the primary benefit – the price tag is generally 25% less than real wood shutters. For most people, faux wood plantation shutters look identical to real wood. When price and budget is the determining factor, however, faux wood is a sensible alternative. In addition, faux wood plantation shutters require less maintenance than wood. Also, many plastic and vinyl materials can last many years without showing wear.
Faux Wood shutters, although at first glance the lower cost and easy maintenance will attract a buyer, when they are felt physically, the difference between the rich wood and vinyl causes many buyers to quickly have second thoughts. Though faux wood shutters are made with the same craftsmanship and quality as wood shutters, when examined side by side, there is a certain indescribable quality of wood that vinyl will never be able to duplicate. The difference can be too subtle for some to consider the extra cost, while for those who desire the highest quality and warmth of wood, real wood shutters are the best and only viable option.
Additionally, because faux wood shutters are made from PVC composites, they are not as versatile in their ability to be matched to the existing trim in the home. Faux wood cannot be stained – they can only be painted to match your desired color.
As you may know, Basswood is the best material for making wood shutters. Basswood, actually from the American Linden tree, is ideal for shutters for a number of reasons. Here are four basic reasons why we prefer Basswood shutters:
1) Basswood is strong but it is also light
2) Basswood has a grain that is uniform allowing a beautiful stain finish
3) It is easy to glue and to finish
4) Basswood trees are growing faster than they are being harvested
5) Basswood does
not
warp
It makes a big difference whether the wood is quartersawn or ripped; quartersawn being far superior and, understandably, more expensive. It also makes a difference where the wood is kiln-dried. The moisture content of the wood is critical to the finish and the stability of the product.
Lastly, most people agree that the sheen and depth of character that real wood grain popping out of the louvers brings out is worth the extra price. However, if you were planning on purchasing white or any other solid color interior shutter, then faux wood plantation shutters can be an excellent choice.
Q2. What is a Hybrid shutter?
Hybrid shutters are an evolutionary trend in shutters in New Jersey. They combine the great style of wood with the strength, stability, and straightness of advanced modern-day materials. Hybrid Shutters offer the modern elegance of quality shutters at an economical price point.
The WoodLore from Norman Shutters is, I believe, the finest shutter in the world. WoodLore is a Hybrid shutter because it is an engineered wood that is then covered in polypropylene. Polypropylene is the coating found inside dishwashers and refrigerators. There are several excellent Hybrid shutters on the market today, as well as several solid Celuka materials available. Your consultant will be able to help determine which is best for your project.
Several styles of shutters are now made from polymer. The polymers are made abroad by GE and shipped here to America. The shutters are then made to order. This process does increase the cost, but it also cuts delivery time in half. Poly wood shutters do have some limitations such as colors and sizes. One of the most significant limitations to Faux Wood/PolyCore shutters is door width. Where wider doors exist, real wood or reinforced composite, which are lighter in weight, is a good option.
Another alternative to wider doors is a poly wood material with aluminum reinforcements. Poly Core. They also offer a good price point, they are a fantastic insulator and are easy to clean. I have these shutters in my own home, and I was pleasantly surprised by how cool my home remains on hot days.
So, if you're looking for a shutter with a fantastic stain or a well-built composite shutter, there are several excellent choices with Hybrid shutters.
Q3. Are shutters "Made in China" a quality product?
Shutters made in China have excellent finishes, and superior workmanship and are less expensive. Their delivery schedule ranges from six to eight weeks. Shutters made in America arrive generally within three to eight weeks and are manufactured in two distinct qualities. First, when the shutter is made from materials imported from China, the shutter is superior in every respect. However, when the shutter is milled and painted in the United States, the finish is consistently inferior – this is due to EPA regulations. Also, the price is increased substantially due to the coats associated with doing business in the United States. Shutters made in Mexico are no better, taking three to eight weeks and cost the same as shutters made in America. Anecdotally, American-made shutters I have seen are replete with flaws and imperfections.
Q4. What's the difference between faux wood and real wood blinds?
Faux and composite wood blinds have come a long way in the past 10 years.
A faux wood purchased today is more stable, won't discolor, and is 30%-40% less expensive than real wood.
If you're looking for a stained wood blind, they are now available in composite (faux) wood blinds. Many manufacturers offer composite wood tones that look great. One of the best benefits of faux wood blinds is their durability. You can leave your windows open and not have to worry about the blind being damaged. I suggest that y windows never be left open with real wood blinds because they will warp and the finish will be damaged.
Today, 2" wood blinds now come with upgraded 3 ½ inch valances. The most popular upgrade is called a Top Hat. This is a process in which the blind is mounted inside and the valance looks like a little cornice box.
Wood blinds come in many colors and stains. They make any room warm and inviting.
Q5. What's the scoop on blinds offered in large hardware stores?
In the New Jersey window covering industry, there is a term used to denote blinds that are sold in large hardware stores – they are called cut-downs. Cut-downs are bought by the boatload as blanks and are kept in stock. The purchaser of these blanks are required to measure their own windows so that the blanks can be cut to the desired width. These cut blanks will then be ready for self-installation, which will then necessitate an additional cut to achieve the desired length.
Professionally speaking, I have yet to see a quality product available from cut-downs purchased at the large chain stores. However, a few online blind companies do exist, which are now selling cut-downs that are of excellent quality. The downside, again, is that these cut-downs, quality or not, still require the home purchaser to meticulously measure, cut, and install the cut-downs themselves. Should the measurement be off, or should they become damaged in any way during the installation, the purchaser is 100% responsible. Understandably, what cost savings that might have been realized from do-it-yourself, can evaporate quickly with even the slightest miscue.
Surprisingly enough, more often than not it is actually less expensive to hire a professional window covering consultant to manage the entire job. Not only does the professional offer an exceedingly wider selection of blinds, colors, and textures, they offer years of experience as to what product is best for the window being covered. They will ask questions the home buyer will never think to ask and advise the most appropriate materials. They'll help the homeowner weigh such variables as the nature and use of the room, the quality of light, the direction of sunset/exposure, energy savings, and mood or feel desired. Not only will their knowledge and expertise prove to be invaluable, but they also take on the responsibility of measuring, cutting and installation. Not only will a professional window covering consultant save the homeowner both time and money, they ensure the job is done right – the first time.
If you are looking for more Frequently Asked Questions for Palmetto Blinds & Shutters please call 803-735-9372 or complete our online request form.