Incredible Sumter Window Blinds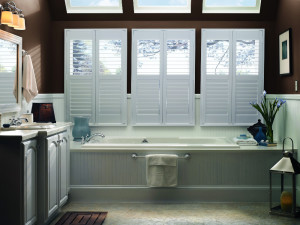 The beautiful Sumter, SC area is even more beautiful at this time of year with the lush green tree foliage turning into brilliant, stunning fall colors. There's nothing like the smell and feeling of wood as a natural element. At Palmetto Blinds & Shutters, we can help you bring in some of the gorgeous natural elements with real hardwood options in Sumter Window Blinds, shutters, and shades.
Dressing your Sumter windows with natural materials helps you to enhance your decor with beautiful materials that make your home or business attractive and warm and welcoming. Real hardwood shutters, for instance, come in varieties you'll love like gorgeous bamboo. Bamboo is a wonderful material that's easily renewable and extremely durable.
Shutters For Your Sumter Home
Other options in shutters can be brought to your location so you can see what they will look like next to your home's furnishings and paint colors. There's no better way to find the right window treatments than to see them up close and personal next to the windows they will soon enhance. At Palmetto Blinds & Shutters, you'll have our mobile showroom brought to your location so you can see everything together instead of trying to guess what they would look like.
Faux Wood Blinds For Sumter Commercial Businesses
Palmetto Blinds & Shutters has been serving commercial businesses since 1997 and we know all about what you'll need as a business vs. a homeowner. We can help you find and install the perfect Sumter Window Blinds, window shades, or shutters for your commercial space. Whether you own a retail shop, offices, medical clinic, educational facility, or other type of business, our blinds, shades, or shutters come in designs and styles to suit your needs.
Special Window Types In Sumter
If you have special window treatment needs, we're ready to help you find the right solutions. You may have window sizes that aren't standard, fixed glass windows that need a different length or type of covering, or odd shaped windows that you've no idea what to do with. We can offer you our professional experience to help you find what you need in window shades, shutters, or blinds.
When you choose Palmetto Blinds & Shutters, you get all around expert help. We have helped others in the area for decades to fit their homes and businesses with our beautiful window coverings. Dressing your windows isn't always easy, in fact it can get quite stressful if you're having to guess what your order will look like only to find it doesn't suit the right colors or style of your home.
If you are looking for affordable, quality Sumter Window Blinds, Shutters and Shades, please call 803-735-9372 or complete our online request form.