Smart Homes Need Smart Window Shades, Shutters, & Blinds
---
---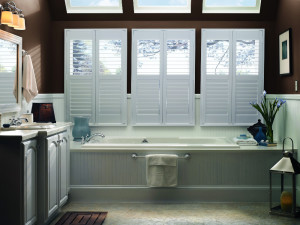 Everyone is raving about "smart" technologies that make our lives better and easier. Today's homes are being built with these new technologies built in, with many soon to be standard features. But it may be some time yet before we all have the options to make all our systems smart enough to keep up with all we demand to do the easy way.
Motorized Window Blinds & Shades Controlled With Your Smartphone?
One of the features that can be added to your home's smart systems, or be added to your home even if you have no smart system yet, is the automated and motorized window treatment equipment.
This equipment is installed to your window frames and shades, shutters, or blinds to make them easily controllable whether you wish to use a hand-held remote control device on location or use your smartphone or tablet over the internet while away. It's no longer just an idea to be able to control our home's or office's systems when we're not there.
Control Your Smart Window Coverings Thousands Of Miles Away
Not that long ago, people who had coastal vacation homes or condominiums in areas that have been hit by hurricanes or heavy storms had no way to hurry and board up the home before the storm hit. Today, there's the option to install "smart" hurricane shutters or shades that operate remotely. With this smart technology, vacation home owners can be thousands of miles away and quickly protect the home from sudden damaging storms.
The motorized equipment is installed on the sides of the window frame with tracks that the shades or blinds slide up and down on. The shades or blinds are opened and closed with a remote controlled motor.
Smart Window Treatments Integrate With Other Smart Systems
Our systems are getting even smarter. Today, you can integrate the smart window motorization options into your other smart home's systems. You can join the window coverings system with the indoor air climate (smart thermostats), sprinkler or irrigation systems, and lighting system with Bluetooth connectivity.
Every day, our technologies advance and we figure out new ways to make things easier on ourselves. It really is a fun time in our history where we're discovering all the cool things our technologies can do to help us live well.
If you're interested in learning more about window blinds, shades, or shutters that operate with motorized or automated controls, give Palmetto Blinds & Shutters a call. We're the most trusted expert window treatment company in the Columbia area since 1997, so if anyone can help you get fitted with smart window shades, blinds, or shutters, we sure can!
Recent Articles
3 Wonderful Benefits Of Interior Shutters

If you are one of the many homeowners out there who are in search of new window treatments for your home, you certainly have your work cut out for you when it comes to finding the right option. Window treatments come in a number of different styles, materials, and designs, giving you a large amount…

Read More

Enjoying Nature With Shades, Blinds, and Shutters

The views from your windows play an important role in how the interior space of your home or business feels. If you have a home in the South Carolina, greater Columbia area, you'll want to bring in as much of nature as possible, especially if you're interested in energy savings and eco-friendly environments. You can…

Read More

If you are looking for a blind, shade, and shutter company in South Carolina then please call 803-735-9372 or complete our online request form.