Expert Tips for Cleaning Your Faux Wood Blinds
---
---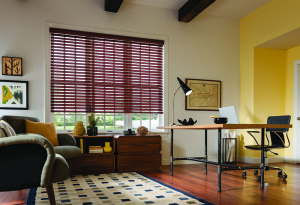 There are many reasons a homeowner may opt for faux wood blinds when choosing their window treatments. For one thing, they are much more cost-effective when compared to real wood.
If you have decided to choose this type of window blind, you also need to know how to take care of them. One of the other benefits of wood blinds is they don't collect dirt and dust particles the way fabric can, however, they still need to be cleaned.
Options for Blinds Cleaning
Routine dusting with a feather duster, microfiber cloth, or vacuum is the best way to maintain the appearance of your window blinds. Followup by running a dryer sheet over the surface to prevent the dust from returning too quickly.
Sometimes though, you're going to need a deeper clean and that's when you'll need a system like:
Mix a solution of warm water and mild detergent. Use a microfiber cloth and get it wet then ring it out. Wipe across the blinds horizontally and work your way down. Make sure you flip the blinds and repeat the same process on the other side.
For green households, white vinegar is a great alternative to detergent cleaning agents. Mix with water and use a clean cotton glove or sock to apply the solution to the surface of the blinds. Use a microfiber cloth to dry the blinds.
You can spot clean stains using warm soapy water or the vinegar mix. Don't use household cleaners as the harsh chemicals can damage the material.
If you need a really deep clean, you can take the blinds down, lay them across a white sheet, and wipe them down thoroughly. This enables you to use more elbow grease without worrying about breaking the window glass. Blot them dry before hanging them again.

For the finest service from a Columbia shutter company, you can call our pros here at Palmetto Blinds & Shutters.
If you are looking for Faux Wood Blinds in Columbia, please call 803-735-9372 or complete our online request form.